The sketches below were collected from participants who were asked to draw a shark, without being given any context behind it.
Click the blinking dots to see what the participants had to say about their own drawings.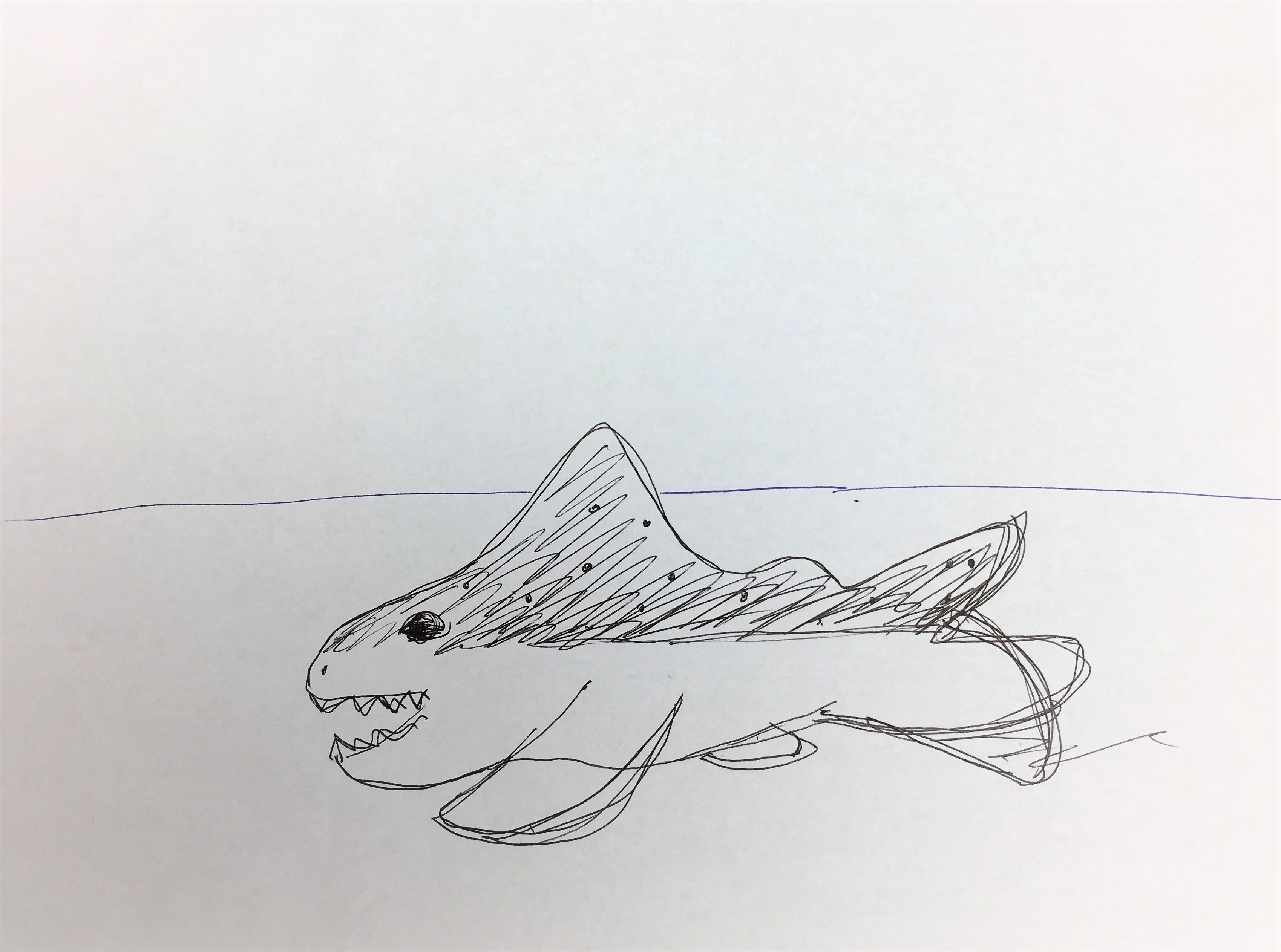 "I drew the fin popping out of the water surface. Fin is the most distinctive part of a shark."
"I wanted the teeth to look scary and sharp."
"I picture sharks in grey colour."
"I was confused whether sharks have a split tail or not."
"I saw a dotted pattern on a shark at the aquarium."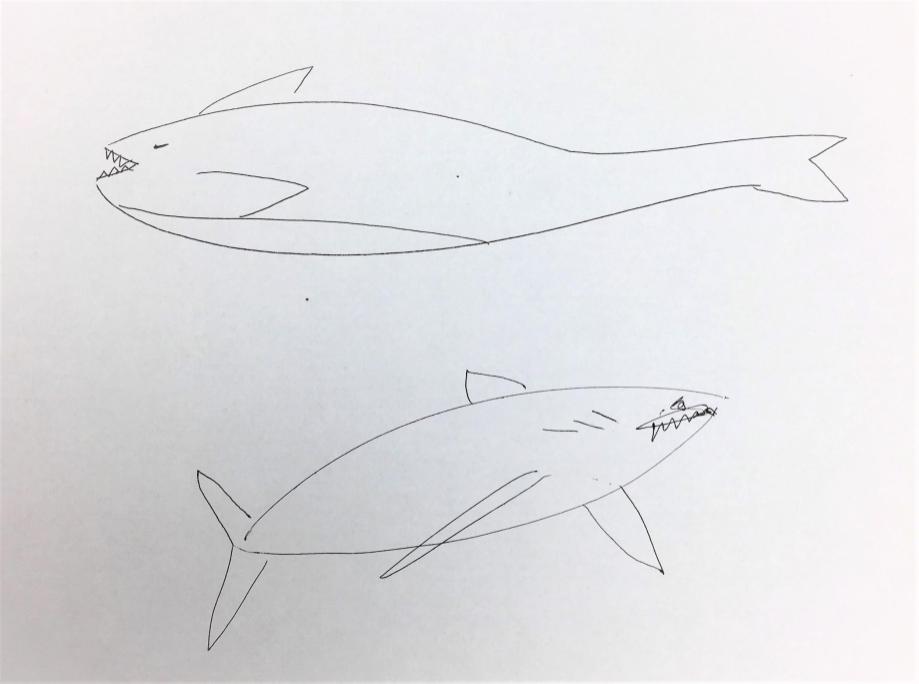 "The colour I think of when I remember shark and shark fins is like a dark, slate grey colour."
"I imagined the shark teeth to be small and pointy and a lot in number. I do think sharks are scary because of their teeth."
"I did not think drawing gills was important. I concentrated more on the silhouette."
"I have seen sharks with small bodies get into fights. I knows that they are very violent, I have seen sharks with scars due to getting into a fight with other sharks."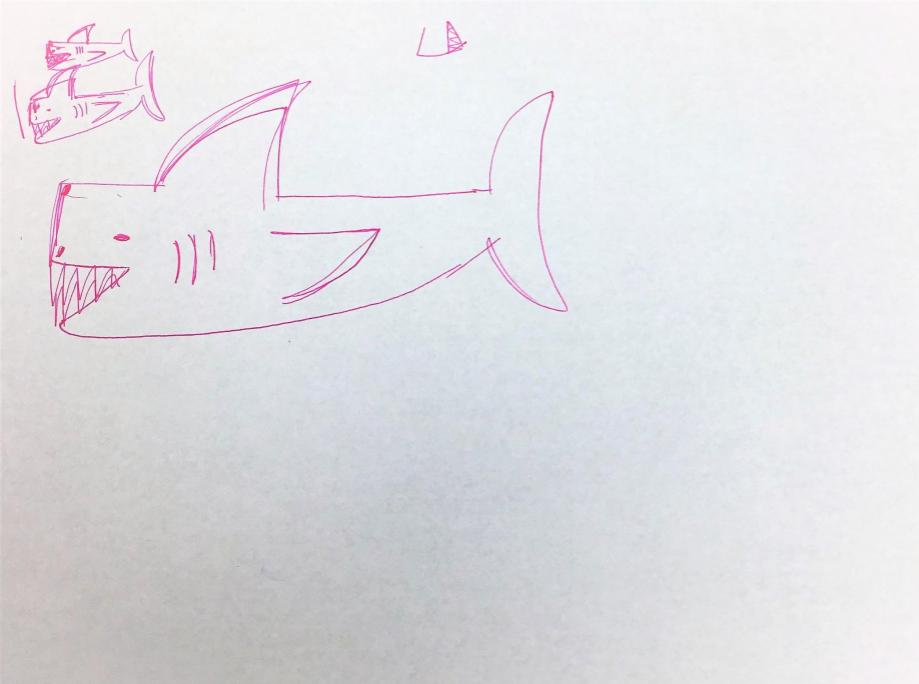 "I remember the creepy little gills on the side and the teeth obviously."
"I drew the fin that everybody knows sharks for."
"I could not recollect the overall shape of sharks or how the head looked."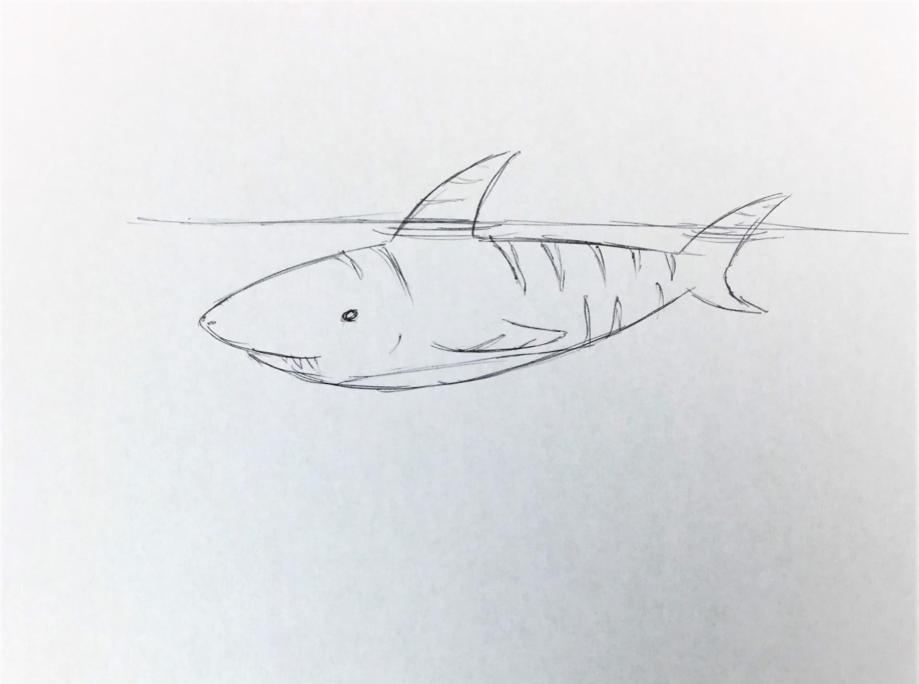 "I did not draw the shark with its mouth open because that is not what sharks actually look like unless they are eating."
"I think I forgot to draw gills because they are not the most distinctive characteristic of a shark."
"I wanted to show the shark fin above the water surface. I think the fin is the scariest feature of a shark, because movies and documentaries usually picture fins as a representative of fear."
With a few exceptions, the portrayal of sharks in most sketches was stereotypical - scary and violent with sharp teeth, beady eyes and a fin poking out of water. What do you think this means?
---
Many humans have a negative perception of sharks!
---
Context: Research project for the course of 'Psychology Research Methods' in collaboration with the Georgia Aquarium

Instructor: Dr. Carrie Bruce

Duration: August 2019 - December 2019

Team: Hyun Tae Park, Jae Hyuk Kim, Ruchita Parmar, Aditya Kundu, Arpit Mathur

Tools: Elicitation Methods, Interviews, Observations, Surveys, Social Media Analysis, Sketching, Storyboarding, Paper Prototyping, Wireframing, CAD modelling, Solidworks, Adobe Illustrator, Laser Cutting, Usability Testing

Contributions: Performed competitive analysis and background research, Conducted elicitation methods, Created sketches, paper and cardboard prototypes, Developed the interactive screen, Conducted usability testing, Recruited participants for various research methods